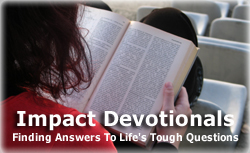 Every week on the show we take a quick time-out from the music to take a look at an issue, question, or topic based on Biblical truths that can be relate to our lives.
Want to request a topic or verse for a future devotional?
Send in
your suggestion.
To read some of our past devotionals, surf through the archive below:
2018
A Target On Our Back
2017
Deeply Disturbed By Christ's Birth (Jerusalem's Story) - A Christmas Devotional
Responding To Christ (The Shepherd's Story) - A Christmas Devotional
Your Worth
Life Outside of Eden
So That You Never Fall Away
Citizens Of Heaven
Daylight Is Coming
Be Still
Don't Waste Your Life
You Don't Know When It Ends
2016
Christmas When You're Just Not Feeling It - A Christmas Devotional
We Are More (A Call To Unity)
The Father's Renovations
So You Want To Go Back To Egypt
Salvation Story
The Testimony of Creation
2015
Celebrating Christmas In Uncelebratory Circumstances - A Christmas Devotional
Dying Battery
God Would Never Call Me To [Fill In The Blank]
Stepping Out of the Quicksand
Fences
When You Can't Handle It
Derailed
The God Who Goes Before
2014
One in 100 Trillion - A Christmas Devotional
The Lord Is With You (Mary's Story) - A Christmas Devotional
Don't Miss It - A Christmas Devotional
One-Twelfth of our Lives - A Christmas Devotional
Closed Bibles, Closed Hearts
His Life Exchanged For Yours
You Can Have It All Except For...
Rejecting Our Freedom
Making A Huge Comeback
Our Little Plus Jesus's All
Riding Blindfolded
When Fear Comes Calling
2013
Am I Blessed?
You Reap What You Sow
He Is With Us
Finishing The Whole Prescription
Which Ending Are You Writing?
Not Alone
King of Kings
Unfinished
Choosing Trust
Who Are You Going To Serve?
Nothing Can Separate Us
Living Love
Living In Light Of Eternity
When You Can't Handle It
Uncover The Wounds
Follow Me
2012
For Those Who Feel Like Giving Up
Tearing Down To Rebuild
Who Are You Believing?
Looking Beyond Today
God Is More Than Just A Good Idea
Seeing Past The Scratch
If Only
Your Mission
Building Authentic Relationships
2011
One-Twelfth of our Lives
The Harvest Is Plentiful
Not Home Yet
The Way of Obedience
Making The Most of Every Moment
Your Story of Redemption
Choosing To Die Daily
Returning To The Word
Recognizing The Sacrifice
Seeing What Lies Ahead
Forsaking Your First Love
Sidetracked
Here Today, Gone Tomorrow
Choosing Where To Plant
Cracks In The Foundation
Spiritual Detoxification
Falling In A Hole
Gone
Your Love
Investing What We've Been Given
You Can Turn Back
One You Can Trust
2010
Your Life, Your Impact
Anticipating The Arrival
God With Us
Hitting The Wall
Off The Couch & On The Throne
The Family of God
Letting Go
What About Today?
Living It Out
Going Our Own Way
Who I've Been Hates Who I've Become
Forgiveness & Its Alternative
Guard Your Heart
The Shepherd
Alive
Learning To Be Near Sighted
Not A Quick Change Artist
Surprised
The Divine Invitation
2009
The Effects of Adversity
Less Is More
Rising From The Ashes
One You Can Trust
The Art of Friendship
Buying The Lie
The Rock
The Money Trap
Moment Of Truth
The Messy Struggle
Dating & The Divorce Rate
Bright Morning Star
2008
God With Us
Happy Christmas?
Broken
Front Yard, Back Yard
Dwight Like Commitment
So That Others Might Live
When No One Is Watching
Dancing In The Rain
God The Father
He Could Have
Daylight Is Coming
Letting Go
Darkness and Light
Nothing Can Separate
We All Fall Down
Sharing The Great News
Warning Signs
Following Jesus
2007
Blizzards Of Life
We Can Make A Difference!
While You Wait
Blessed Be The Name Of The Lord
Between The Falling and Getting Up Again
Deserts of Doubt
Lost and Found
Who Is She? Who Are We?
Bird's Eye View
The Mystery of Christ
Water: The Scary Statistics
Your Life Uncovered
Right Now
Stop Running
Resurrection Life
The Stumble
A Heart That's Free
Finding Perspective in Christ
Because Every Moment Counts
Extraordinary in the Ordinary
New Years
2006
Putting Christ back into Christmas
The Question of Christmas
Five Years and Running
The Slippery Slope of Satisfaction
Seven Years Later
Making Adjustments
Things Are Not As They Seem
The Debt of Love
The Harvest is Plentiful
Putting God In A Box
The Quest for Control
I'll Be Happy When...
Fences
The Journey
Living Water
No One Like You
Dealing With Dishonesty
Don't Wait For Tomorrow
Seeing What's There
What Are You Chasing?
History is in the Making
The Difference Prayer Makes!
Get In The Game!
A Lesson In Thankfulness
Finishing Last
2005
Life Outside Of Eden
A Life Worthy of the Calling
God Hasn't Forgotten
Do Something- Anything!
Responsibility- What's That?
Major Misconceptions
The Difference Light Makes
It's Up To You
The Journey
Who's Packing your Parachute?
Arm-length Faith
What Lies Underneath?
Streams of Mercy
Really Good News
What Love Looks Like
God's View of us in Grace
The Cost of Following Jesus
The Struggle of Surrender
Living Out Love
An Extension of God's Hand
A New Year, A New Start
2004
Was The First Christmas An Accident?
The Question of Christmas
Putting Christ Back Into Christmas
All That Matters
Who Are We Waiting For?
One Choice Can Change Your Life Forever
See The Rain
Stifling The Holy Spirit
Your Past Can Effect Your Present
God Wants To Use You!
The Problem With Grace
Lesson Learned In The Dark
Making A Difference- One Life At A Time
No Eye Has Seen
Working Alongside The Father
Who Is Jesus?
Dreams For The Future
Christians & Politics
Desperate For Direction
Spiritual Sunblock
Crazy Mary
Sea Of Faces
The Great Length To Relate
What Is Your Life Built On?
Your Relationship With God
Live Out Love
Shaping Up For Sunday Service
The Unseen Epidemic
Series: Luke 12- Our Primary Concern
Part One: Is It God's Kingdom?
Part Two: First Application (verse 33)
Part Three: Second Application (verse 34)
Part Four: Third Application/Conclusion
Who's In The Driver's Seat?
Battle Between The Spirit And The Flesh
Series: Sharing Your Faith
Part One: Through Words
Part Two: Through Actions
Part Three: Through Passion and Prayer
Goals And Purposes
2003
Putting Christ Back Into Christmas
The Ultimate Christmas Gift
Faith Like That
Trust the Truth
Stalemate and Sin
Dare To Dream
Why Worry?
The Downloading Debate
The Journey Towards Simplicity
What Message Are You Sending?
Total Commitment
Closer Than We're Far Away
Get Real
Slow Down!
Crazy Mary
It's Time For Action
I'm Learning
The Graduation
Your Prayer Life
Have A Little Hope
God's Message For His Church
Balance Of Justice
Why Does A Good God Allow Suffering?
Hearing God
Worship
The Prevention Method